Head Wrap
When I look at the indigenous tribes of Kemet(Africa), I see beauty. I see tremendous practices of beauty, from hot knife keloid designs to lip plates and weighted ankle jewelry . But the one thing I don't see is
head wrapping
. I am not talking about what the Africans of today wear, they are all
colonial victims
just like us here in America, I'm not even talking about anyone who could alive today.
'Hamer' women of Ethopia
I am talking about the original people: before wavy hair and light skin. The original woman did not sport head scarfs. Ok let me say honestly, I have never been particular about head wraps, I guess it's because I took so much time to do my own hair that I wanted it to be seen and admired by all. But that aside, with further analysis, I came across a little bit of info on the origins of the head wrap and it seems to go back as far as the
1700's with the first
depiction of African slave women drawn a Danish painter named Dirk Valkenburg.
Read here about the
Tignon Law
:
Governor Don Estevan Miro of New Orleans in 1786 "…prohibited Creole women of color from displaying 'excessive attention to dress' in the streets of New Orleans" (McNeill 2004). According to the tignon decree, women of color had to wear a scarf or handkerchief over their hair as a visible sign of belonging to the slave class, whether they were enslaved or not. Those women affected by the law did, in fact, cover their hair, but they did it with elaborate fabrics and jewels- an action which technically meant the letter of the law but also allowed them to maintain their standards of fashion and beauty. They effectively re-interpreted the law without technically breaking the law.
The Nuba People
These are some of the ordinances which regulated African American dress throughout the South during the eighteenth century (Wares, 1981:131-136). Caucasians used these dress codes to distinguish the powerful from the powerless.
" The earliest, South Carolina's Negro Act of 1735, "specifically set a standard of dress for the enslaved and free African Americans" (ibid. 132). In 1740 amendments, South Carolina's slave code further elaborated the dress regulations (Genovese, 1974:359). In 1786, while Louisiana was a Spanish colony, the governor enacted a dress code which forbade: "females of color ... to wear plumes or jewelry"; this law specifically required "their hair bound in a kerchief" (Crete, 1981: 80-81; also Gayarre, 1885: 178-179 and Wares, 1981:135)."
It was said that slave women were required to wear it, only getting some reprieve on 'special occasions' where they were allowed to show there hair. It was also documented that the women did not comb there hair unless it was for special occasions. The head scarf, even hair ties were symbolic of
subjugation of women. Some other dress symbolising subjugation and control:
American Bride with "Face Veil" and head covering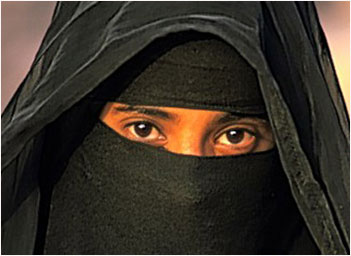 khimar"face veil" for muslim women
Black Nun


Well I have to say that it was shocking to read this especially since we have made head wrapping such a cultural statement of black pride, but here again, we can see the effects of 'blind faith', of customs and traditions practiced without questioning...essentially we do not live by 'choice' but by habit and fear. Disclaimer: If you feel that head wrapping is your cultural identity, then by all means, have at it. I support you fully but I won't be wrapping my head anytime soon... Hmm let's see what other customs I'm going to have to get rid of...